Cheap Logo Design Australia: To gain popularity and promote yourself effectively, it's crucial to have an innovative logo for your business or company. Our affordable logo design services offer professional and creative logo designs. You can rely on us for all your logo requirements to give your business a boost. We excel in cheap logo design processes like no other, always striving to not only satisfy our customers but also provide something extra to enhance their company's image. Checkout our Business Logo Design Australia services.
Your logo is the first impression of your business. Enjoy unique, classic, and original designs for your business at an affordable price. We develop Unique and Modern Minimalist design, Flat logo, Modern art, Signature work, Feminine art, Real Estate, 3D Logo, Vintage, Professional and Luxury logos. If you have any question, please visit our FAQ page. If you've a fashion related business, we make fashion logo design Australia.
Cheap Logo Design Australia
At Logo Designs Australia, our goal is not just to create a logo for you, but to make it a true representation of your brand. Our services are highly efficient, as we value our customers' time and money. You can trust us for affordable logo design services that deliver exceptional results. Checkout our Unique Logo Design Australia services. We have the Best Logo Design Services in Australia.
Here are some top business logo services we've done before;
Laundromat
Gaming Development
Airport Shuttle
Network Security Business
Babysitting
Fibre-Optic
Elderly Care Home Business
Catering Logo
Cleaning Business Logo
Warehouse & Distribution Center Logo
Grocery Home Delivery
Forex Trading Company Logo
Pharmaceutical Firm
Digital eBook Library
Food Restaurant Logo
Digital Marketing Agency
eBay Selling Business Logo
Graphics Designing Logo
Desserts Business Logo
Interior Designing
Photography Logo
Construction Business
Travel Agency
Immigration Consulting Services Logo
Recycling Business
GPS Car Tracking Company
Repair Garage Logo
Creative Ideas
What make us unique among others that are in the logo design industry is that our designs does not base on the designing concepts instead we always try to develop creative ideas. We work on every project with a different thought not only we do research on our customer's firm but we try to understand what actually is required in the design so that they can tell there customers that they are unique and better than the others in the competition. These are the creative ideas which makes customers distinguish us from others in the logo designing industry. We provide free logo design concepts if you buy our packages. Do you know what's the Difference Between a Logo and Branding?
Innovation
Trust us we know that a design will be absolutely useless if its concept is not defining the firm's innovative brief and in custom cheap logo design the innovation does actually matters. A logo should narrate that why the customer should consider you among others. For it there should be something unique about your services and for it we always try to discover the historical background of a firm so that we can copy the research that we will do on the competition of our clients. Innovation is what makes our logo design services unique and more than the time we like to spent in designing, we try to spend much more than in the innovation identification phase. If you want to see what our customers are saying about us, check out our testimonials.
Design and Development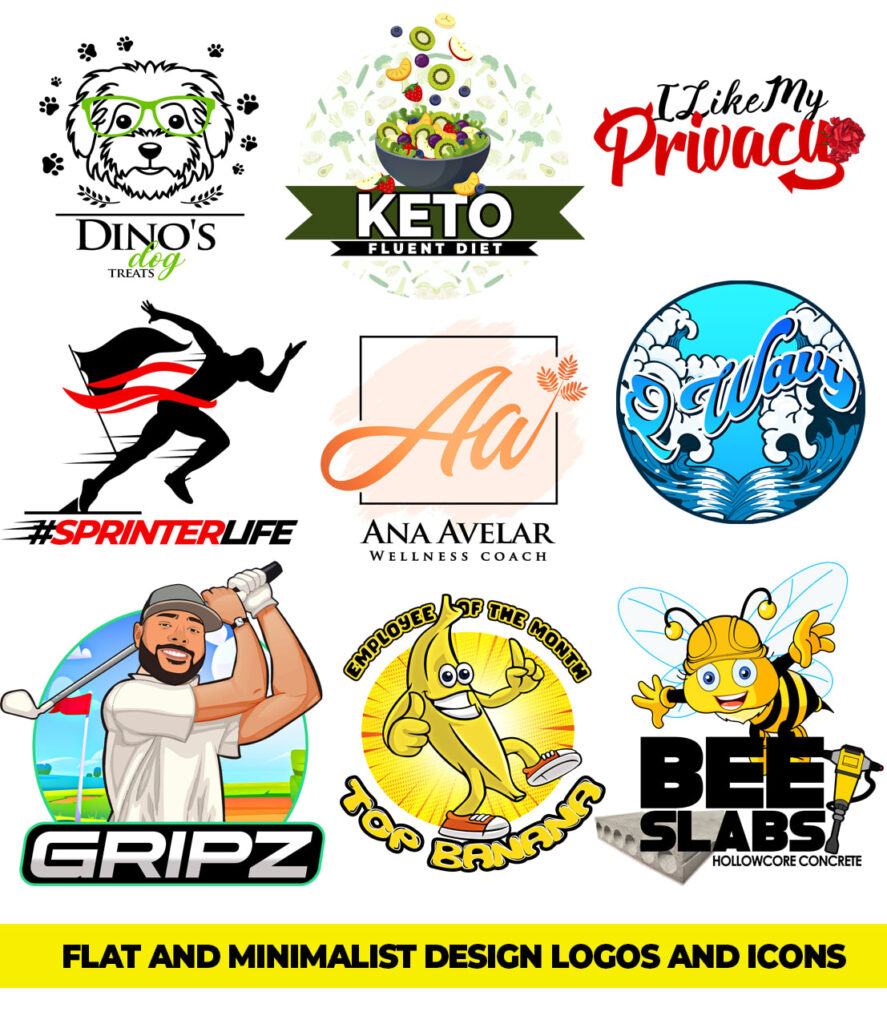 After conducting thorough analysis, we proceed to the design and development phase of creating a high-quality logo. Our team possesses the necessary experience and expertise to ensure exceptional results. We strive to design logos that help you achieve your promotional and recognition goals. Our team excels in handling complex logo design challenges and is renowned as the top logo designers in Australia. We are committed to delivering quality corporate logo designs in Australia, always going the extra mile.
Our logo maker Australia can help you in creating custom logo designs for your websites. We do wedding logos, construction logos, university logos, plumber logos, restaurants logo, shops and many other small business. Forget about free logo design Australia as they are not creative and you'll face copyright issues.
Minimalist Logo Design
Minimalist design can be tricky for designers when it comes to logos. Minimalist logos are effective primarily due to their simplicity being devoid of any elaborate or intricately designed detail. Our expert graphic designing team can handle it smoothly and create shapes and monochromatic color palettes. We also provide Business Card Design services, Letterhead Design,
No matter if it's a business card or a billboard, a brand or company, our creative logo designs can be read clearly and effectively. Order today or get a free quote!
Brand Awareness
There are a plenty of small businesses with a belief that awareness about their business could be spread via launch of the advertising and promotional actions, and they are surely right in their belief. In case of brand awareness, the logo is the essential source. We also Small Business Logo Design Melbourne Victoria.
All the businesses are aware of the importance of having a logo since it gives the identity to a business entity, and this is why they must realize the value of a logo design if they really want to make a brand and the brand awareness can be formed with the help of a logo. You can use Logo Design App Free for your handheld devices.
The actual apprehension of this fact can come through when you look at the logos of other products and notice that how you recognize them by their logos. It is the point when you realize how a logo plays its part in establishing a brand and creating brand awareness. Our Business Branding Packages are available.
A smart logo gives the identity and the artistic image to your business or company along with the product and services you have to offer to your consumers. In fact, a smart logo could turn out to be a unique selling proposition for your business. Only a business name can in no way achieve such a success; therefore, you must have custom logo design designed which has the mesmerizing qualities and can be used as a dominant brand awareness tool for your business.